Google have been busy promoting their 'Be together. Not the same' videos leading to todays unveiling of the next Andriod release along with the latest Nexus devices. Perhaps the most anticipated being the Nexus 6 being made by the currently Google owned Motorola, the device carries a premium price tag (€569/649) unlike the past two Nexus devices from LG which were much more agressively priced. The price of the Nexus 6 is somewhat justified based on the larger 5.96″ QHD Amoled display (2560×1440) of 493ppi, moreover the Nexus 5 will continue to be sold alongside the new devices for those who might find the latest Nexus too large or too expensive.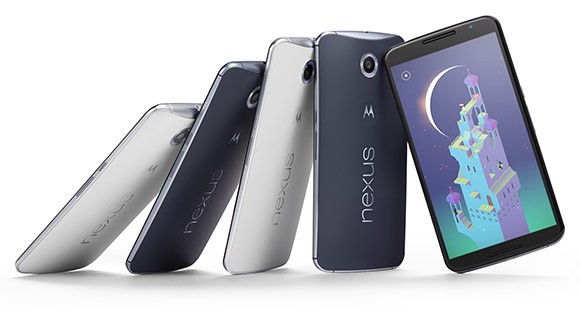 The Nexus 6 has a Snapdragon 805 2.7GHz quad-core Krait 450 processor with an Andreno 420 GPU to push those extra pixels, there's 3GB RAM, a 13MP f/2.0 OIS camera with dual LED flash on the back and 2MP front camera couped with two front fascing stereo speakers, storage options are 32/64GB (non-expandable). Perhaps one of the Nexus 6 best features is the new turbo charging technology which promises 6 hours of use from only 15 minutes charge time, this could prove useful should you forget to charge you phone as the 3220mAh battery is non-replaceable. Pre-orders will start on October 29th with an unspecified November release date, options are wither for Midnight Blue or Cloud White.
HTC has been responsible for the Nexus 9 tablet with the rather unusual aspect ratio of 4:3 it's screen is 8.9″ just short of 9′ as the name sugests, with a resolution of 2048×1536, the tablet is powered by the Nvidia Tegra K1 processor clocked at 2.3GHz coupled with the powerful Kepler DX1 GPU and 2GB RAM. At only 7.9mm there are non-expandable storage options of 16/32GB and a 6700mAh battery, however there is an 8MP rear and 2MP front camera, moreover HTC have brought their much aclaimed BoomSound front facing stereo speakers from their One series of smartphones to the Nexus 9. There is also an optional keyboard accessory to help with productivity.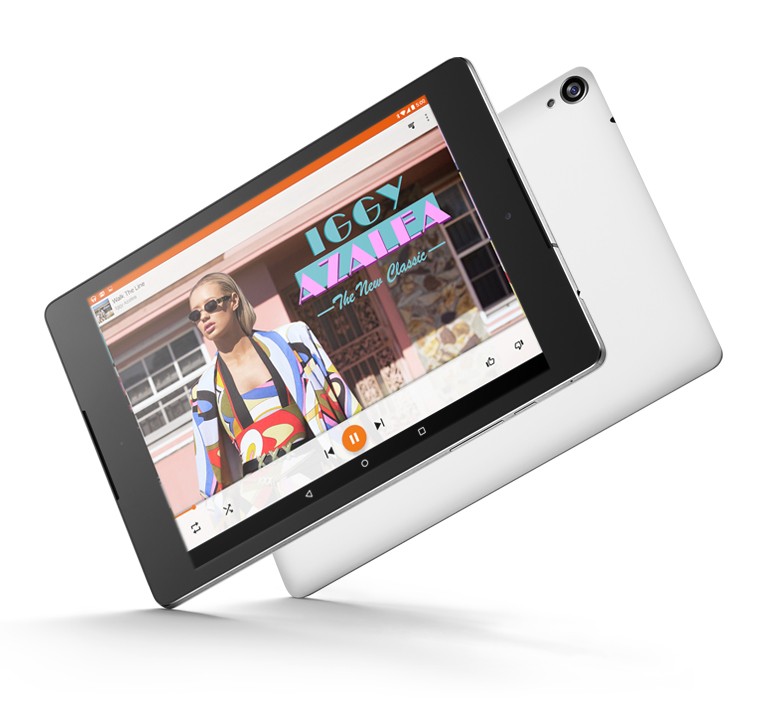 After careful revisions following the success of the Chromecast dongle, Google have developed the Nexus Player, which includes all the features of Chromecast alongside the Android OS, which serves as the Nexus Q albeit with more purpose than just streaming. It includes a remote control with voice control and an optional game pad, which can be purchased separetly, essentially making it an Android TV games console. The Asus made Nexus Player has a 1.8GHz Intel Atom processor, connectivity is limited to HDMI out, 802.11ac 2×2 (MIMO) and comes with two AAA baterrries for the included remote.
Lolipop 5.0 is said to be the biggest release since the Jump from GingerBread 2.3 to Ice-Cream Sandwich 4.0 which back in 2011 brought a unified Android OS between smartphones and tablets. 5.0 is said to bring new features and intuatives ways to interact with smart devices with a complete overhaul of the OS known as 'material design'.
Some of the most notable features within the material design bring a unified look across all devices, breing fluid movement and improved toggle animations. Notifications have improved with a solid look and can also appear on the lock screen and they are less intrusive when using other apps allowing you to dismiss them without taking over the whole screen should you be recieving a call. Quick settings cab be accessed by swiping down twice, instead of streching for a button or finding the correct side to pull down, you can now adjusting brightness from the quick settings, rotation lock and there's a cast screen option too. Android runtime is said to help better optimise apps and add native support for 64bit proccessors. Project Volta is a new java api which assists with optomising apps for background tasks to help prolong battery life, there's also  improved battery history use providing more detailed info on how your battery is being used, how long you will have left and how long until it's fully charged. There is finally a stock battery saving feature to help improve the already capable OS. Do not disturb is another feature which has been around within other devices however Google have come up with a rather simple and easy to use interface with timer options should you only need a few hours. Personal unlocking is Googles way of letting users access their phone without the need for a password or fingerprint, it works either by location such as your home / work, trusted Wi-Fi networks or bluetooth devices. Hardware assited hotword, 'Okay Google' from any app, even when screen is off to launch Google Now, which was initially introduced with the moto x. Recents offers multitasking similar to chrome, tabs that now stack, meaning recently opened apps will be easier to navigate.